For many, running a successful pharma consulting company, maintaining a marriage, and raising a ten-year-old daughter would keep a person plenty busy. "It does," says father, husband, and Armis Consulting founder, Chris Wilkins. But the 44-year-old Kenly, North Carolina resident says fishing – both recreationally and competitively – is an important and complimentary fit to his busy life. "Fishing and boating are things all of us enjoy. They brings us closer together and help us work better as a team. They are activities we look forward to and create positive and powerful memories."
Wilkins says he got into king mackerel fishing in 2003. "I just really fell in love with these fish. I love that you fish for them with live bait and how they attack it. It's a quick bite, then they are immediately off and running," he says.
Wilkins' boat is a 2005 Triton Center Console with 2020 trip Yamaha 300's, outfitted with a full complement of Raymarine and Teledyne FLIR electronics. "We have been fishing competitively since 2005 and mostly focus on king mackerel tournaments. We mainly fish Division 1 SKA events around North Carolina but have also fished Florida waters for these incredible fish and really love it. I have the best crew," Wilkins relates. "My team is usually made up of me as the captain; my brother-in-law, Robbie Evans; my Dad, Ben Moye; and my buddies, Joey Starling, and Derek Wilson, but my wife Amanda, daughter Mallory, and other family members rotate in and out of the crew whenever we can make it work."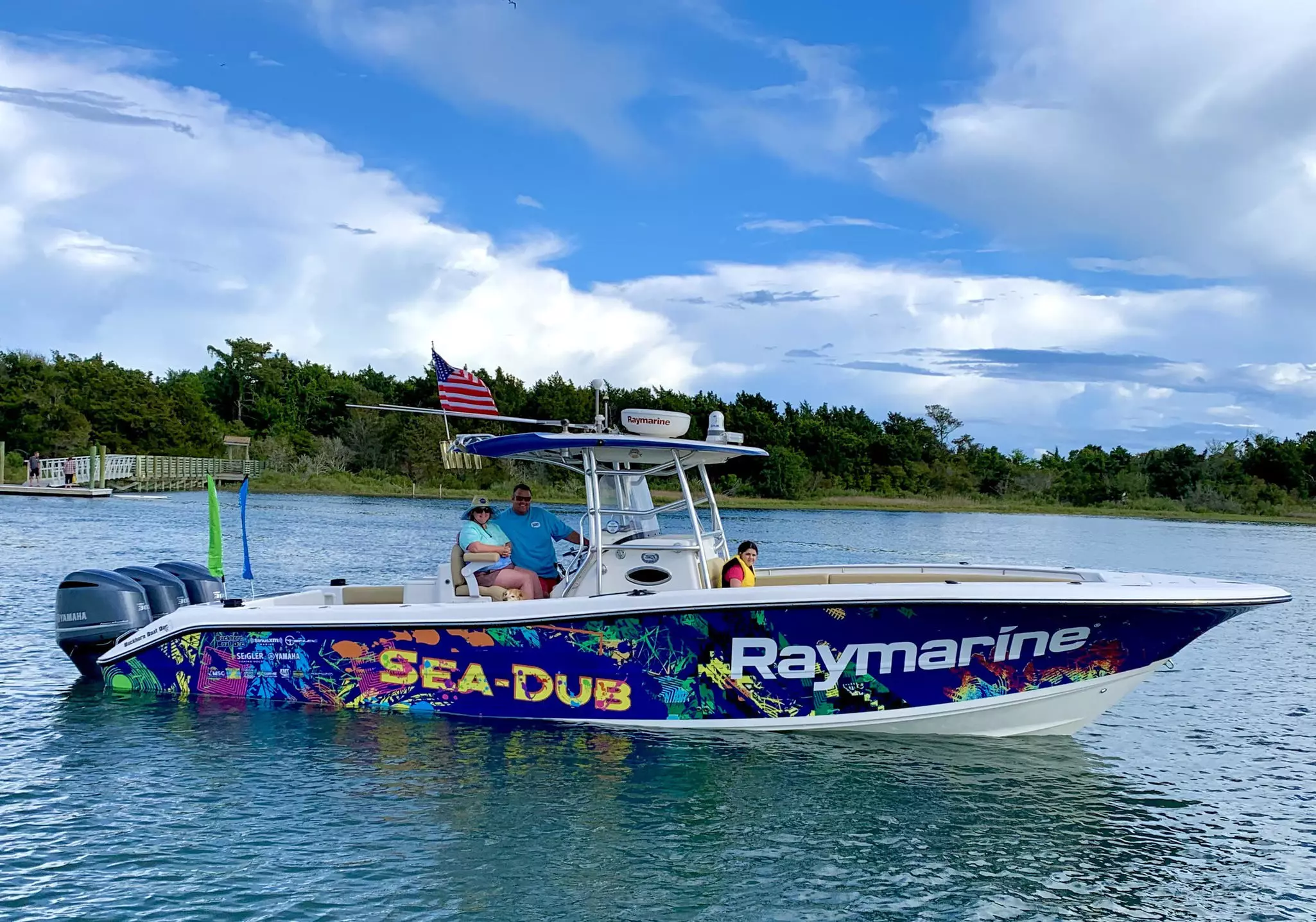 Camaraderie is one of the reasons Wilkins enjoys competitive fishing. "In addition to the family and friends on our own Sea Dub Fishing Team, most of the teams we fish against are all friends, too. Most of us work well together, finding bait and fish together, sharing information and encouraging one another while out on the water," says Wilkins, who spends ample time on the boat fishing recreationally as well. "Even outside of tournament fishing, we mainly focus on king fishing. We take family and other friends out to fun fish and introduce them to the sport we love so much."
Wilkins says fishing provides needed respite from his busy career. "I started my company in 2007 to ensure my clients received the level of support they deserve so that their products going out the door are the best they can be," Wilkins states. "I really enjoy my job. We have a hand in making new, life-saving drugs available, and that's really rewarding. But spending time with my family is the most important thing to me. Whether it's fishing, taking trips to the mountains, or enjoying time on the sandbar, I spend as much time with all of my family as I can. We go out and enjoy life to the fullest."
Wilkins' favorite fishing memory was in 2005 when Sea Dub won the Atlantic Beach King Mackerel Tournament. "My whole family was at the event and was able to be at the weigh in and the awards to cheer us on. It's something we still talk about to this day," he recalls. "Being able to win that tournament was a huge accomplishment for my family."
Wilkins and family have been fishing with Raymarine electronics since 2014. "Everything on this boat has been upgraded for safety, comfort and performance," he says. "We run dual Raymarine MFD's, Evolution autopilot, RVX1000sonar, Ray90 and Ray53 VHF radios, Raymarine radar, and a Teledyne FLIR M232 thermal camera. As soon as I get on the boat, I turn on all the equipment. I go to the MFD and check the SiriusXM weather to ensure where we want to fish is safe. Then I will check out fishing spots where we have caught fish before and set a route to that location. We can use our autopilot to take over the steering to our fishing spot. Once we get close to where we hope to fish, we utilize our RVX1000 Sonar with DownVision, SideVision, and RealVision3D until we locate a good amount of bait, then start fishing."
Wilkins dives deeper into the utility of his Raymarine electronics. "I can engage the autopilot to keep us going in the right direction while I step away from the wheel to help clear lines when we get a fish on," he says. "If we encounter a foggy morning, I rely on our radar to ensure we do not have anything in our path. It's our eyes when we can't see." Wilkins says one of the best upgrades he did to his boat was installing a Teledyne FLIR M232 thermal camera. "We usually leave the dock early in the morning and have long runs to the fishing spots. Using our FLIR camera we can safely see in the dark while leaving the harbor, running the inlet, and proceeding out to the fishing grounds. I typically pull up my chart on one MFD and the image from the thermal camera on the other to ensure safe navigation. It's a great tool. In addition to buoys and boat traffic, you'd be surprised at the hazards we can spot and safely avoid using our FLIR."
The Sea Dub Fishing Team's tournament season has only recently started in North Carolina. "We fished our first event on June 26 and landed in 5th place overall and 3rd Place SKA," Wilkins reports. "We are hoping to continue to do well this season. We plan to fish the Sneads Ferry tournament August 21, the Meat Mayhem September 17 - 18, the Morehead Open October 15 - 16, the NC Trooper October 16, the Raleigh Saltwater November 6, and the Delany Hudson, which hasn't been scheduled yet. Of course, we'll do a lot of fun fishing before these events," Wilkins adds. "It really pays to stay in the know regarding bait and fish movements, so fishing the week of a tournament really helps provide a good baseline as to where to fish on tournament morning."
Above all, Wilkins stresses that Sea Dub is a family fishing team. "Our entire families love this sport and encourage us every day. Even if they are at home, they always check on us and see how our day is going. We have made some great memories and friends in this sport," says Wilkins, who looks at Raymarine as a part of their extended fishing family. "Having the support of a company like Raymarine has been a game changer for us. There are several people there who I know that all I have to do is pick up the phone and ask a question and they will always be there. Like any family member, the Raymarine team always supports us and ensures we are ready for our next event."
Keep up with Captain Chris and the Sea Dub Fishing Team on Facebook and Instagram.