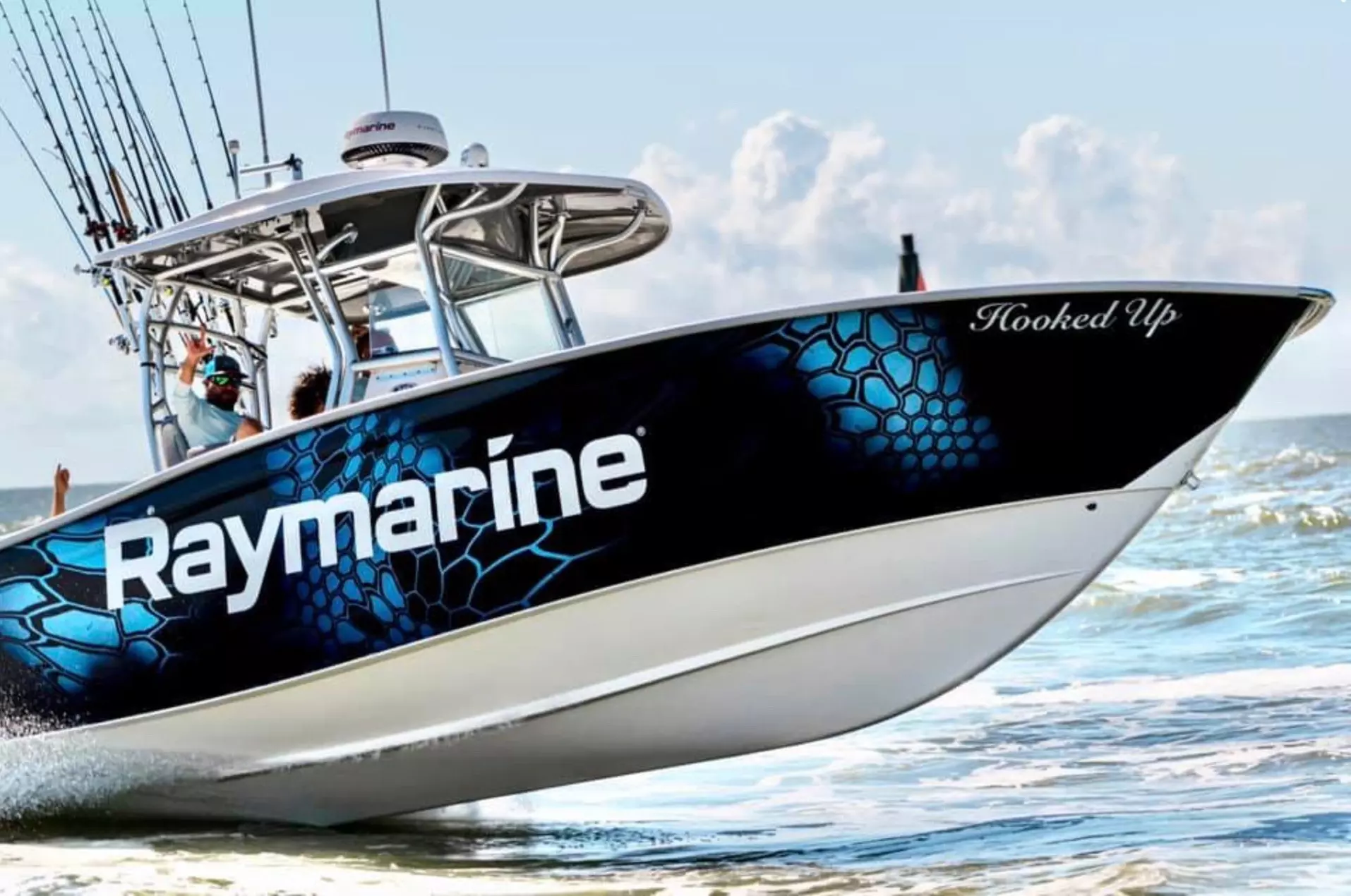 After a one-year hiatus due to last year's COVID-19 pandemic, the SKA National Championship is back for its 28th installment, coming to Ft. Pierce, Florida, April 14-17.
"We're excited to have the 28th Annual SKA National Championship here in Ft. Pierce at Causeway Cove Marina on the Treasure Coast of Florida," says Rick Hatcher, Executive Director of the Treasure Coast Sports Commission. "We welcome all the teams, all the families, all the sponsors and vendors, and we look forward to an exciting week of great fishing, as well as fun activities for the families and friends who come with your teams."
The SKA National Championship is a two-fish aggregate event, meaning each team will score points for the heaviest king mackerel caught each day during the two-day tournament. To qualify for the SKA National Championship, a team must have competed in at least 2 SKA sanctioned events and weighed in a King Mackerel (minimum 10.0 pounds) in at least one of those sanctioned events. All team members must be active SKA members. With last year's limited tournament schedule, SKA organizers are allowing qualifiers from the 2019 and 2020 seasons into this year's Championship, which is a winner-take-all event in two classes: Open and Small Boat, with $40,000 and $10,000 prizes, respectively. Past National Champions and past Anglers of the Year are automatically qualified for the Championship.
One of those past Anglers of the Year is 25-year SKA veteran, Ron Mitchell of Palm Beach, Florida, one of only three captains in the 30-year history of the SKA to earn AOY honors more than once.
"We've won quite a few individual tournaments over the years and have finished in the top ten almost every season, but earning Angler of the Year twice (2006 and 2009) is something we're really proud of," says Mitchell, who laments missing a third AOY honor in 2011 by a scant pound. "Winning AOY is the hardest thing to do in tournament fishing. Winning a single tournament is a great accomplishment, but to go and travel to new areas out of your comfort zone, compete and consistently earn success against 100 other boats full of great fishermen is really hard to do."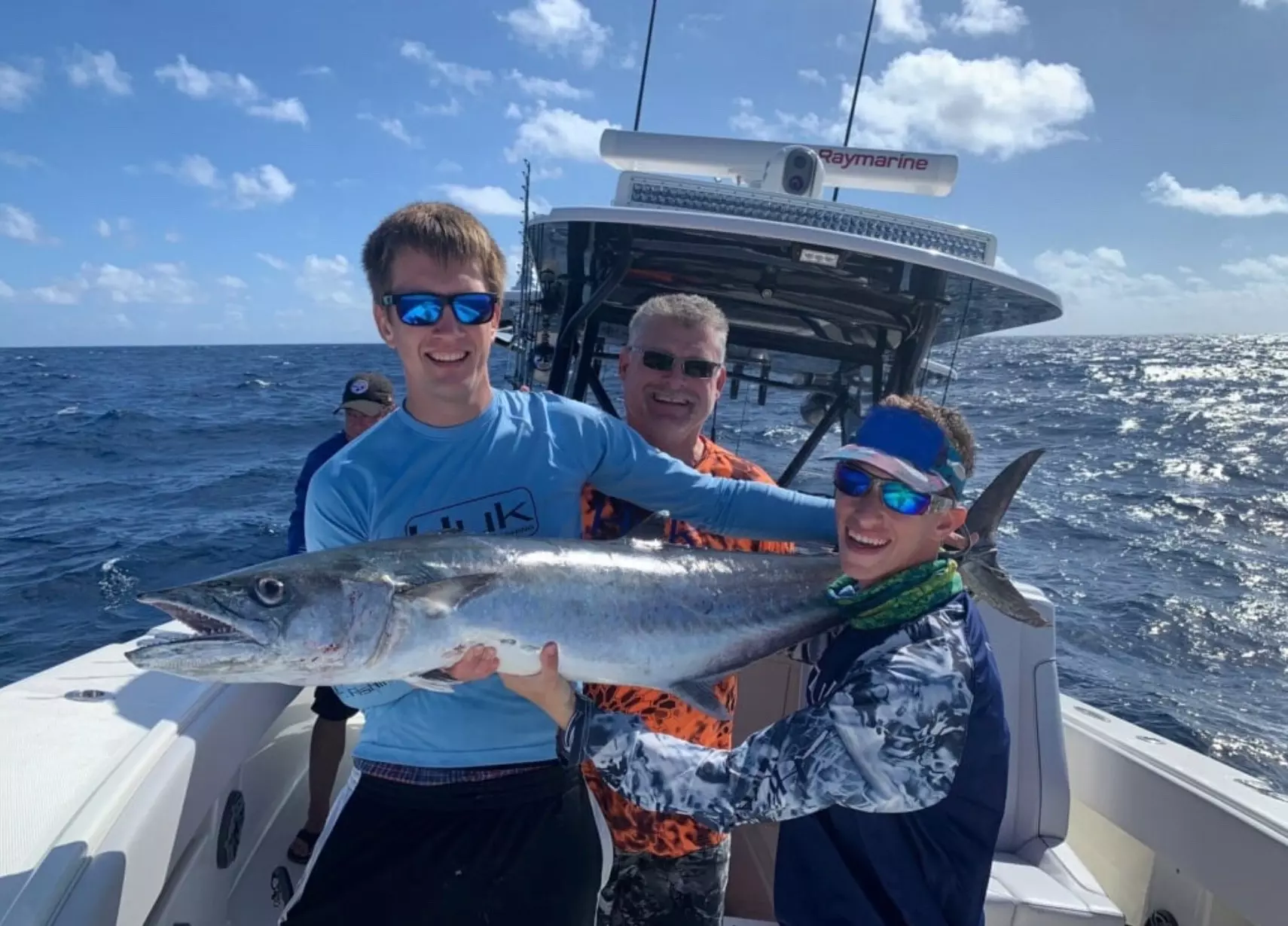 Earning success is what Ron Mitchell and his Bandit Fishing Team do on a consistent basis. "We broke the all-time record in 2006," says Mitchell. "We didn't win a single tournament that year, but we maintained a 40-lb. average. I have always been blessed with skilled teammates," he adds. "You can't do well without an amazing team."
Raymarine is a key part of that team, and is also a supporting partner of the SKA. "I've been on board with Raymarine since the Raytheon days and I won't switch," Mitchell says. "Raymarine is always moving forward and creating opportunities for anglers; they're never satisfied, and that's how most of us tournament fishermen are."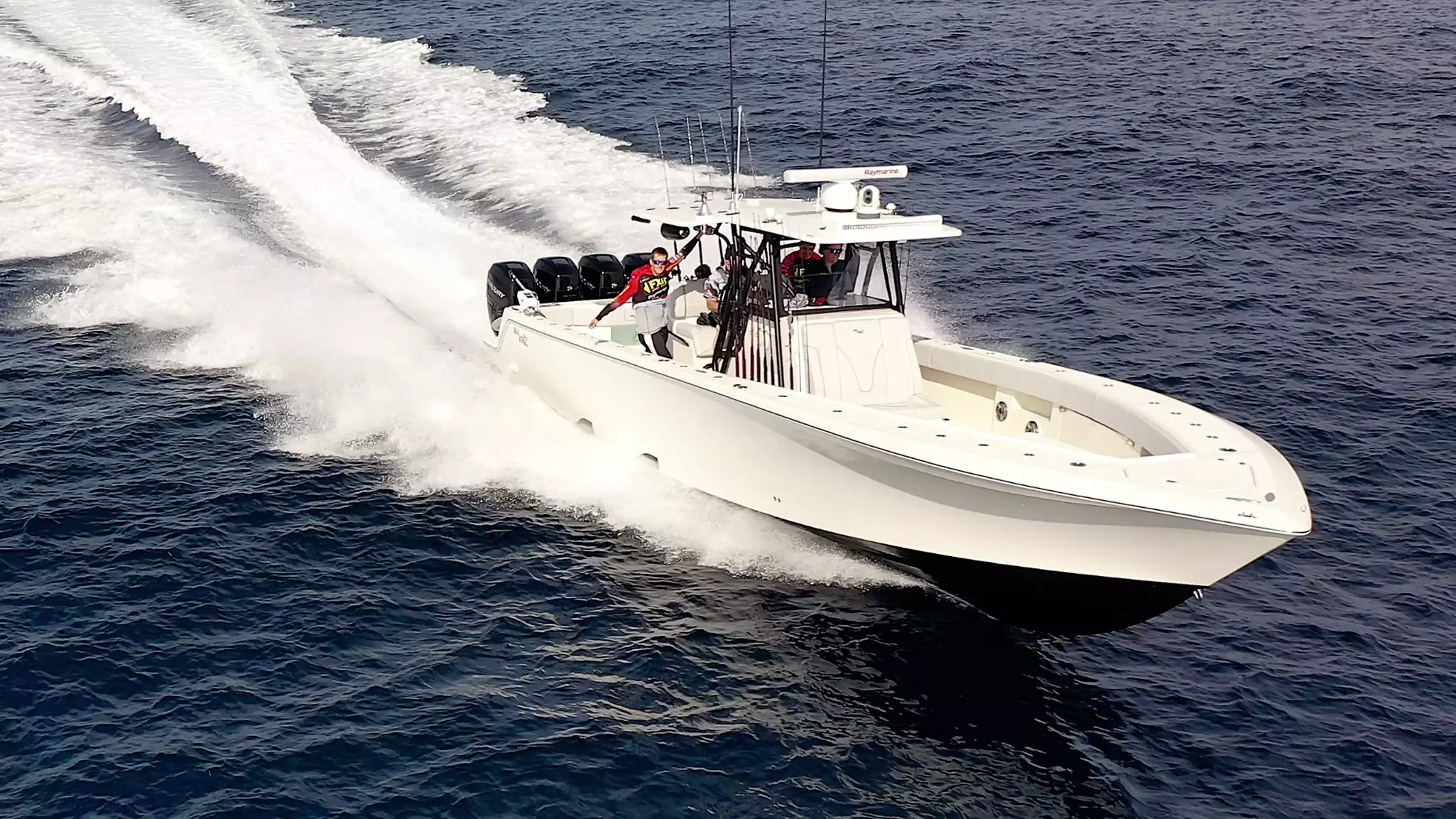 Mitchell and his Bandit Fishing Team are running a brand new 39' SeaVee, fully loaded with Raymarine electronics. "We have the Axiom XL multifunction displays. They're so fast, clear and powerful, and with CHIRP, SideVision and DownVision sonar, we can see a pod of fish and easily know whether they're kings," says Mitchell. "We need the separation and detail that Raymarine sonar provides. We're also running a FLIR M364c camera and open-array Raymarine radar with Bird Mode. With the FLIR, we can bust out of an inlet at 3:00 AM and it's like daytime, and we can find birds on bait from miles away and get there fast. Without these technologies, you are blind."
Mitchell says finding good bait and having the ability to make a long run, if necessary, are a couple potential keys to having success in the upcoming SKA National Championship on the Treasure Coast. "We have a long area; the fish can be anywhere from Daytona to Lauderdale. It isn't always necessary, but boats that can make that long run to find good fish are at an advantage," says Mitchell, adding that he thinks it'll probably take 80-90 lbs. to win the Championship. "No doubt there will be some big kings caught, but even if lightning strikes and you boat a 50 or 60, you still need something to go with it the next day. Bait is key, too," he adds. "You can have a lot of variability in the quality of bait from one boat to the next. You've got to be able to find good bait and keep it healthy to stay in the game."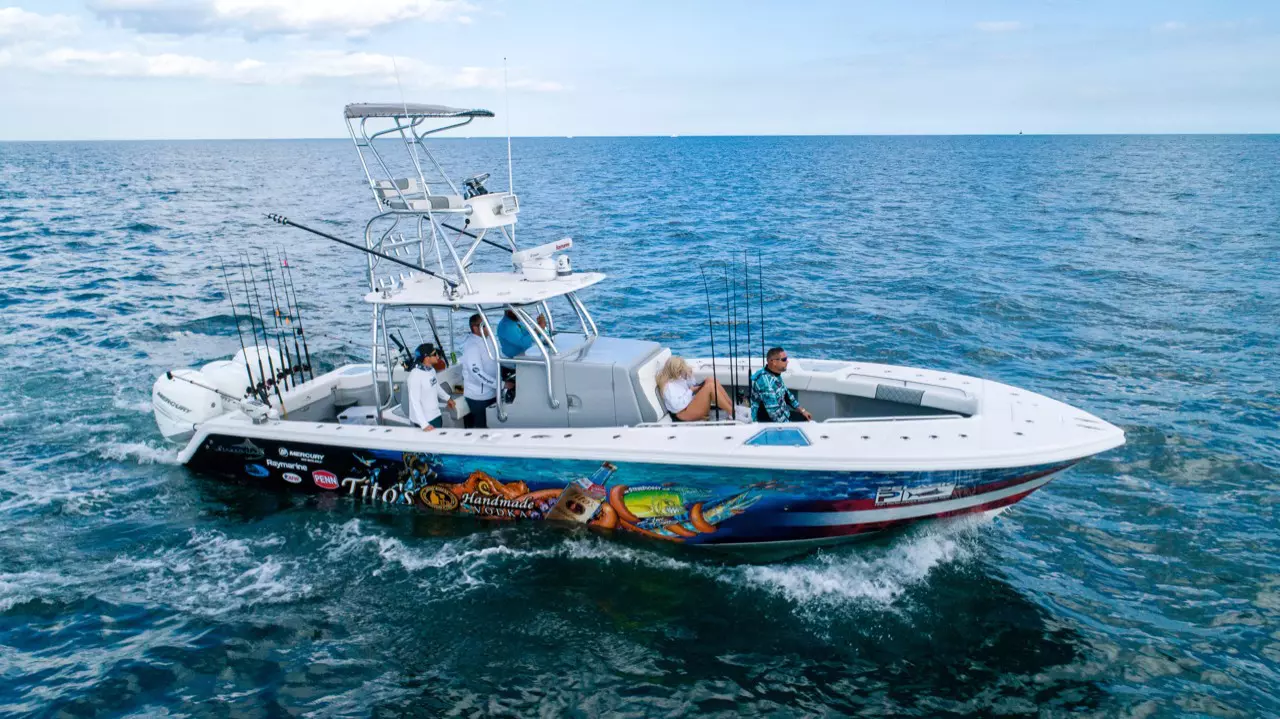 Captain John Jackson and his Tito's Fishing Team is another boat to watch in next week's SKA National Championship. Also based out of Palm Beach, Jackson and his team have been fishing in the SKA for the past nine years. Team Tito's won the very first tournament they entered in the Small Boat Class, but have been fishing the Open Class for the past seven years.
"After last year's unique circumstances, we're really looking forward to seeing and hanging out with all our SKA friends at the Championship in Ft. Pierce. They really know how to host a tournament!" says Jackson, who thinks it'll probably take 80 lbs. to win the Championship.
"There are definitely going to be fish around, but it has been tough lately. We have been a bit lost this year," Jackson admits. "We got skunked at the Palm Beach Mayhem event; the fishing just hasn't been as consistent as many are accustomed to. Some sardines are finally starting to show up though, and if they come in a little stronger, you'll see competitors finding some nice fish."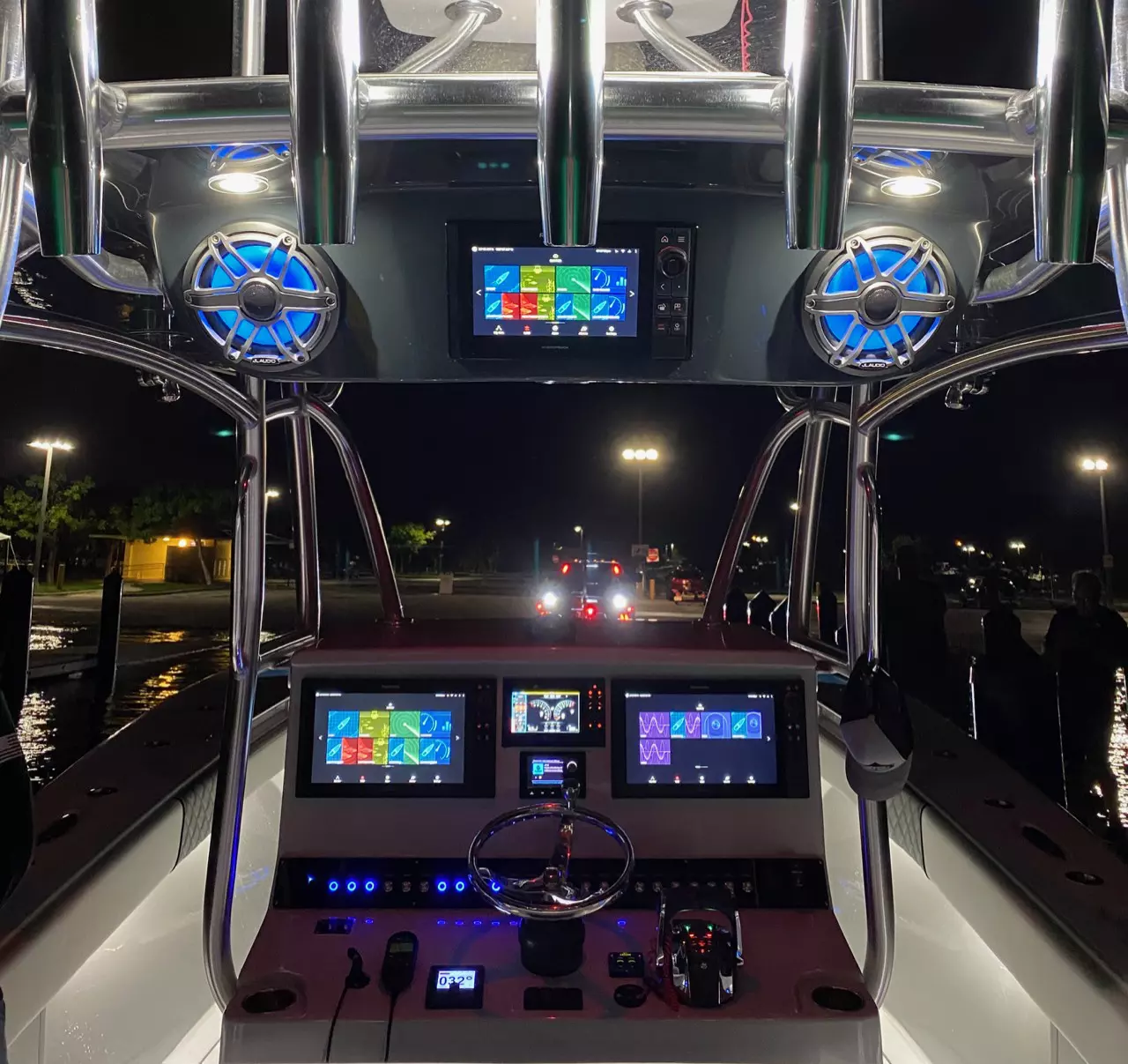 Jackson and Team Tito's recently made the switch to Raymarine from another brand of electronics, and are running a pair of Axiom Pro 16's and two Axiom Pro 12's. "The customizability with Raymarine is second to none. Being able to quickly adjust data fields, customize favorite views and integrate with all the systems on the boat has been a game changer for us," says Jackson. "Combine that with our new Raymarine open-array radar with Bird Mode and our FLIR M232 thermal camera, and we have an all-new level of awareness of what's happening on and around our boat out there on the water. I won't build another boat without a FLIR. All our bait fishing is done at night, so the increased awareness and vision it provides is extremely helpful."
Jackson says he's excited that brothers Jay and Price Feimster have taken on ownership of the SKA. "These guys really love and support the fishing community," he says, "and their overall experience in running tournaments and supporting them with cutting-edge marketing and communications is going to take what's already a great organization to the next level. We're thrilled to see our sponsor, Raymarine, continuing to support the SKA, too. More anglers are going to see and learn about the advantages Raymarine equipment provides."
SKA co-owner, Jay Feimster, dives into next week's National Championship event and provides insight into what anglers, sponsors and fans can expect to see from SKA in the near future.
"2020 was our first full year with the SKA. It started off great, then COVID forced us to shift our traditional tournament format," he says. "The parties, banquets and get-togethers everyone loved went to virtual meetings, online registrations and point scores and not a lot of in-person interaction. While it was different than what everyone had come to expect, there were some real bright spots. Most importantly, overall participation was great in last year's tournaments. People wanted to be out there and they had the time to do it. Secondly, COVID allowed us to digitize a lot of our content and start building a brand new digital platform. The parties and in-person gatherings will be coming back, but starting next season we'll have an entirely new digital platform that connects our anglers, sponsors, and fans in real-time in exciting new ways. Price and I have been in the web industry for 23 years and we're excited about using that experience to move SKA forward. We have 42 tournaments scheduled for next season from North Carolina to Texas in 10 divisions right now, and are fairly certain we'll be adding a few more."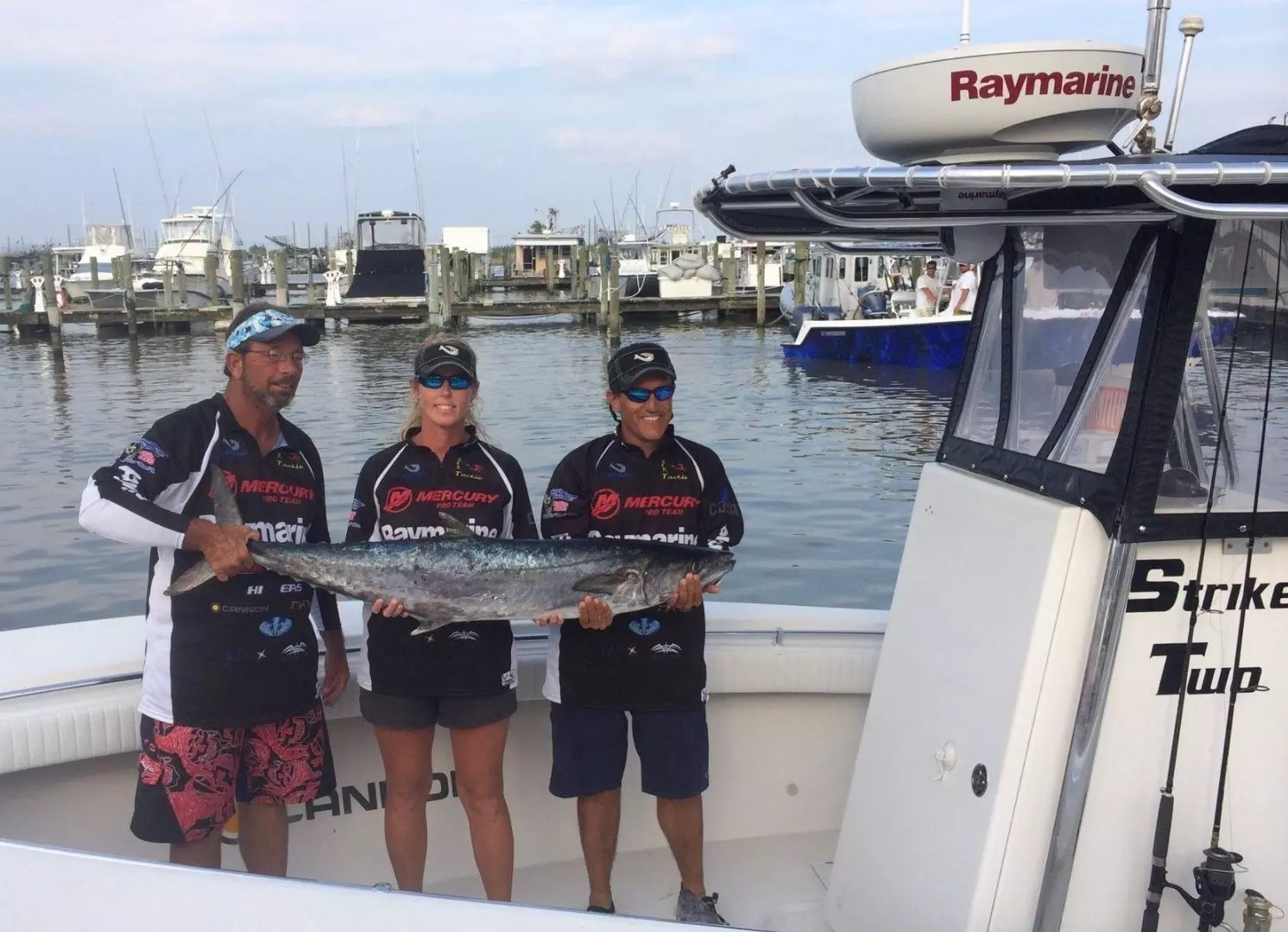 Feimster says their hosts for the SKA National Championship – Ft. Pierce, Causeway Cove Marina, and others – have done an outstanding job at providing the facilities and resources necessary to bring back much of the beloved social interaction SKA events have afforded in the past, while keeping participants safe. "The venue and the site at Causeway Cove Marina is totally contained," he says. "Our hosts have been really creative and helpful. We'll have tents set up for our social gatherings outside, which will allow us to conduct our events safely in accordance with current social-distancing guidelines." Planned events include a Captain's Meeting, Divisional Awards Ceremony, and an SKA Hall of Fame Induction, which Feimster is particularly excited about. "We're inducting someone who's been fishing in the SKA for 25 years," Feimster says. "He's earned a lot of success on the trail, but has never won an SKA National Championship. We're looking forward to honoring this captain, his accomplishments, and his broad contributions to the SKA and to sport fishing overall."
Since participants could qualify for the 2021 National Championship over the prior two seasons instead of just one, Feimster says they've received more pre-registrations than ever. He's expecting a field of over 150 boats in the competition. "More people are eligible to fish this year due to the two-year qualification window, but this is also the SKA's 30th anniversary, so we're also enjoying seeing several members come back into the organization." He says the Championship in Ft. Pierce is anyone's game. "The fish are usually closer to shore here, so if that holds true, it could be a really even playing field. When we were here in 2016, the winning fish was caught right off the beach. Anything can happen in Ft. Pierce, but I think an upper 30 and a 40 might put a boat near or at the top of the leader board."
In addition to Mitchell and Jackson, other Raymarine pros competing in the SKA National Championship include Captain Rob Lupola and the Raymarine Strike Two Fishing Team, Captain Jeff Fletcher and the Hooked Up Fishing Team, and Captain Shane Murray and the Total Vision Sportfishing Team.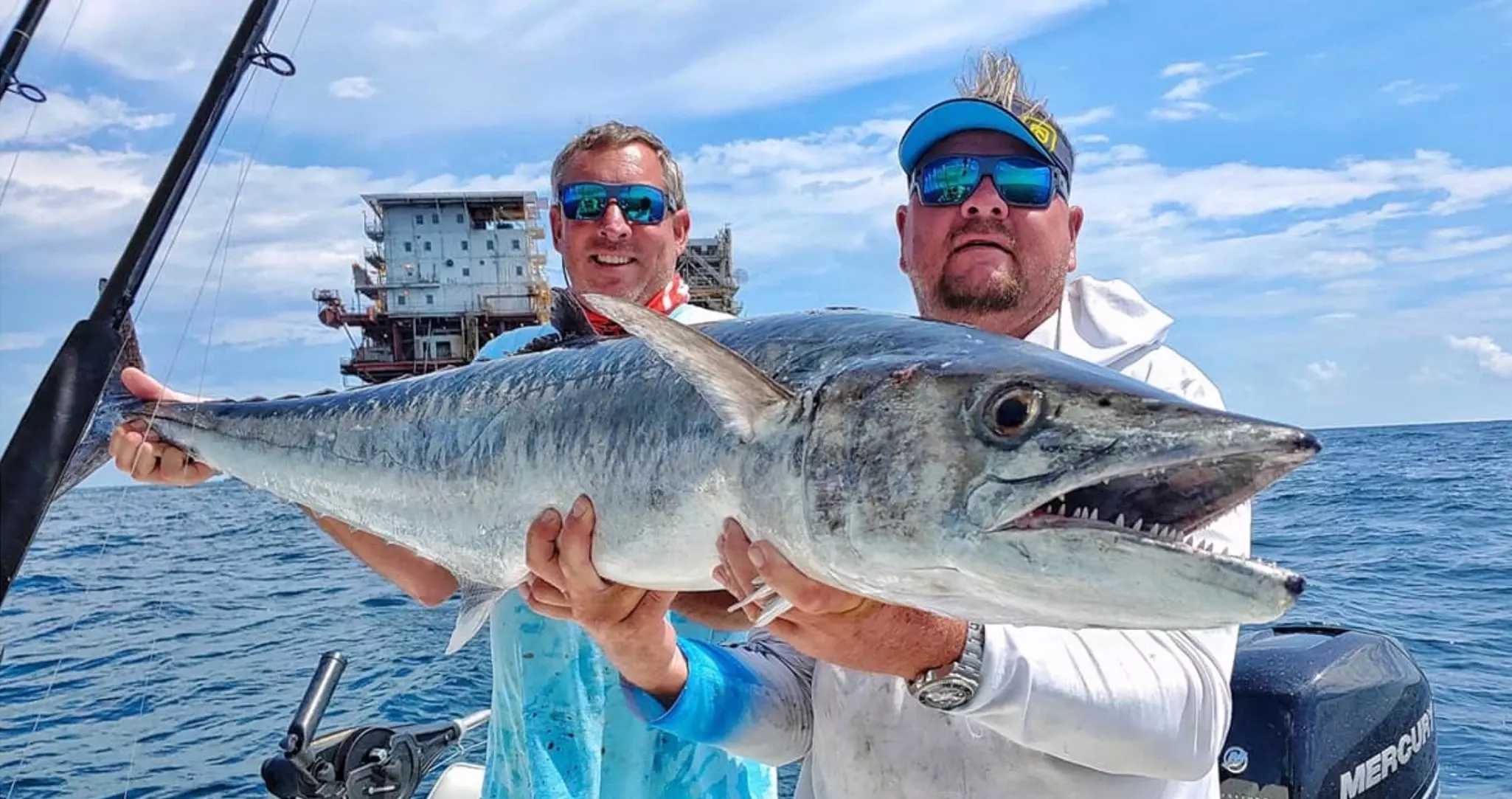 Join the conversation and follow all the action of the 2021 SKA National Championship on Facebook at facebook.com/officialSKA.